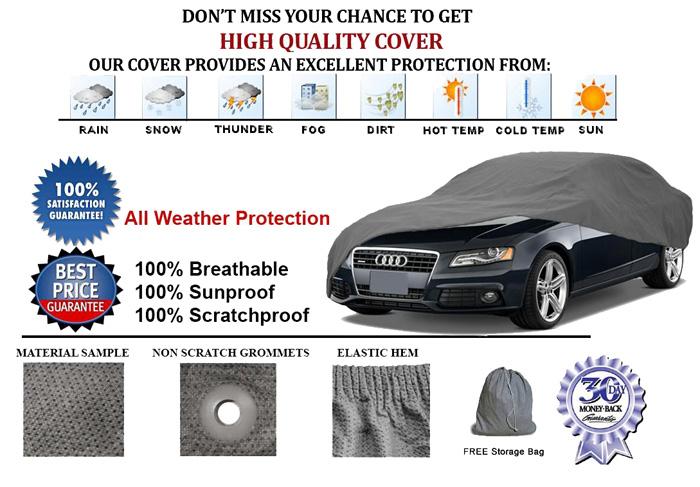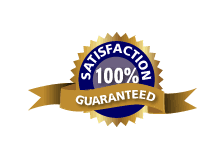 -Our 100% Waterproof Wagon Cover will provide all year round protection to your car.
-It will efficiently shield your car's paint from all finish-destroying agents: sun, rain, snow, dust, dirt, tree sap, mold, mildew and other corruptive elements.
-The cover will minimize accidental bumps, dings, and scratches.
-Made to handle the worst weather conditions, our car cover is the best way for storing your car.
-You will save money on car washes, repair shops and will enjoy your ride in a brand-new looking car all year round.
-Investing in our quality cover is not only a practical move but also the perfect option for maintaining the car's exterior.

PACKAGE INCLUDES:
Brand New Wagon Cover.
Free Storage Pouch

FEATURES OF OUR COVER:
Condition:
Brand New
Color:
Gray
All Weather indoor and outdoor protection:
Our high-quality outdoor wagon cover is waterproof, breathable and provides a great protection from: snow, rain, dust, dirt, mold, mildew, sun. This cover is ideal for high moisture climates including all across the US and Canada.
Soft and Non-Abrasive:
Will not scratch clear-coat on paint.
Durable Material:
Made from Technologically advanced, durable, composite fabric material with protective waterproof film in between and non-scratch film to protect fine automotive finishes.
Welded Seams:
The seams are welded to prevent water penetration.
100% Waterproof
Our cover will keep your vehicle dry and will protect from rain, acid rain and prevent the corrosion process.
100% Breathable Material:
One remarkable characteristic of our cover is that it allows air to circulate, preventing moisture from settling on your car and ruining its paint.
Dust Protection:
Our cover shields your car from fine dust.Whether indoors or out, when dust sits on your paint it turns abrasive and causes scratches.
Dirt protection:
The car will stay cleaner longer and will require fewer washes.
UV Protection:
Harsh UV (ultraviolet) rays and the intense radiant heat of the Sun can damage the paint. Treated with non-hazardous uv coat, our cover is like sunscreen for your vehicle, blocking harmful UV light.
Protects interior and dashboard from sun damage:
The cover will reduce internal temperature by 10 degrees, and will keep stored personal items out of sight.
Mold and Mildew Protection:
The material is treated to minimize mold and mildew.
Moisture and Salt Protection:
Cover will keep moisture and salt from your vehicle.
Greatly reduces dents, and scratches:
Our cover adds a layer of protective padding to cushion against runaway shopping carts, absent-minded car doors or other blows.
Technologically advanced manufacturing process:
We use new and advanced technology to manufacture our car covers with less sewn pieces of material, it allows the cover to fit better and stay durable over time.
This car cover has an elasticized hem:
To ensure a tight fit.
Cable Lock Ready:
Cover has 2 built-in, reinforced, scratch-proof grommets to tie or lock down your cover with cable lock kit (sold separately in our Ebay store)
Acts as an excellent theft deterrent:
Since time is crucial in not getting caught, thieves often pass by covered vehicles, which take longer to get into, and go after easier prey.
Easy to use:
Remove the cover and your car is as good as new and ready for adventure.
Semi-custom fit:
To accommodate most cars in the industry
Storage Bag included:
For convenient storage of your cover, when not is use.
Machine Washable:
All our covers CAN be washed.
7 YEARS WARRANTY!!!
We stand behind all of our products, and include 7 years warranty. It covers the material and workmanship.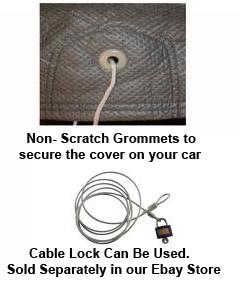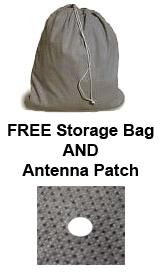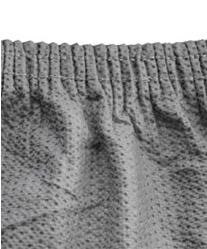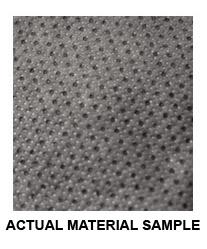 Non-scratch Grommets on each side
Free rope included
Cable Lock sold separately in our Ebay Store.
Free Storage bag- For easy storage
Antenna patch for antennas that don't retract
Elasticized Hem to ensure a tight fit.
Scratch proof and secure
Made from Technologically advanced, durable, composite fabric material with protective layer in between and non-scratch film to protect fine automotive finishes.
FAQ:
I can't find a cover for the model of my car. Do you have covers for other car models in stock?
Yes, we have covers for almost any car. Simply contact us and we will provide you with Ebay item number for the cover needed.
Does your cover have an antenna opening?
Yes, an antenna patch is included with most covers for antennas that don't retract.
To use it:
1.Simply cover your vehicle and mark where the antenna hits the cover.
2.Apply the adhesive-backed patch to that spot, and punch a hole in the center of the patch after the patch is applied.
How to install your car cover?
1. Remove cover from bag.
2. Secure the cover at front bumpers.
(A "FRONT" tag is sewn on the inside of the cover so you can tell what side the front is.)
3. Pull cover over the top of your car and secure under rear bumpers.
Does your cover has non-scratch grommets?
Yes, our cover is equipped with non-scratch plastic grommet holes on both sides of the cover. You can use these holes to tie or lock down your cover. We suggest to use a car cover cable lock. (sold separately in our Ebay store)
How to care for your Car Cover?
All our covers CAN be washed.
Machine Washing
1. Use a commercial washer.
2. Use a delicate soap such as Woolite.
3. Set washer to "Delicate".
Machine Drying
We suggest to air dry all covers.